About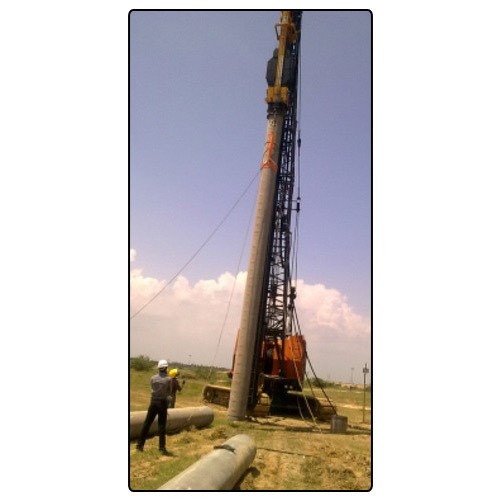 Bangladesh Machine Tools Factory Ltd (BMTF) is manufacturing international standard Spun Prestressed Concrete (SPC) Pile for the commercial application in Bangladesh. These can be of different sizes like 6m, 9m and 12m with varied thickness. SPC Piles are popularly used to support the large building specially at coastal areas and reclaimed land.
SPC Piles are widely used in foundation engineering due to its high load bearing capacity, reliable quality assurance, simple manufacture process, and cost effectiveness. Very recently material composition, strength, properties, axial, shear and banding capacity of the SPC Piles are tested by MIST where BMTF manufactured SPC Pile exhibited very improved result.
Specification & Comparision
a. Length:6m/9m/12m
b. Thickness:100mm
c. Diameter:400mm
d. Load bearing:140-160 Ton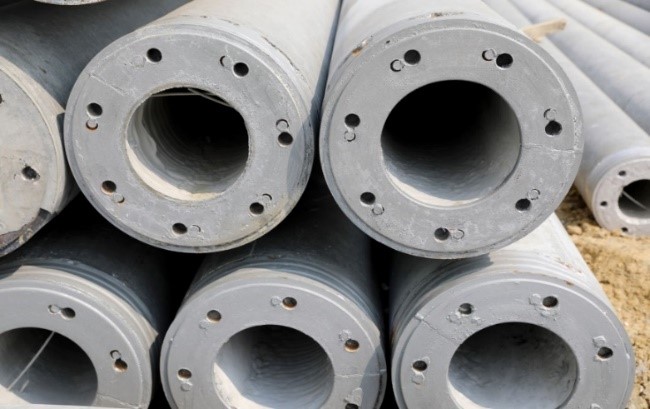 a. Quality can be determined before drive
b. Cost effectiveness
c. Higher load bearing capacity
d. Actual load bearing capacity can be ascertained during driving
e. Quickest driving method
f. Environment friendly
g. Minimum workforce
h. Free from spil waste
j. Use of high density concrete and low water absorbance
k. Same concrete quality is maintain throughout the length of the Pile
a. Plot size-5 Katha
b. No of piles - 40 Nos
c. Depth considered - 100 ft
d. Total length of piles - 40 x 100' = 4000 running ft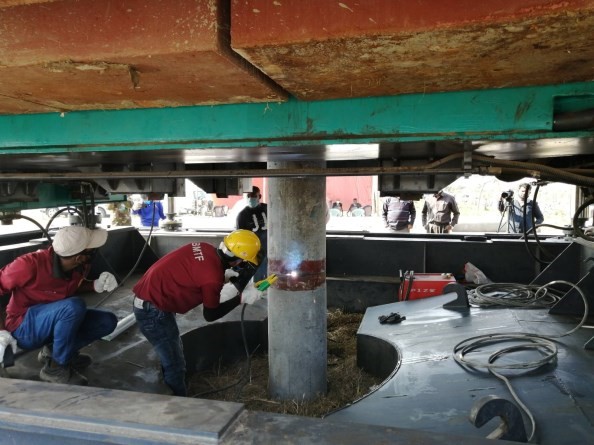 | Items | Cast in Situ Pile | SPC Pile |
| --- | --- | --- |
| Measurement | 20"/24" | Diameter-400mm, Thickness-100mm, Length-6m/9m/12m |
| No of Pile required | 52-72 nos | 36-40 nos |
| Load Capacity | 70 tons | 140-160 tons |
| Cost | 70-80 lacs | 45 lacs |
| Time | 2 months (approx) | 1 week max |
| Quality | Difficult to determine | Can be determined before driving |
Projected cost of SPC Piles for 5 katha plot is 45 lacks (applicable for the officers' plot at Jolshiri only) including transportation and driving. This cost will remain effective for 2 months from now and vary with the market price thereafter. Due to fuel price hike overall price may rise upto 30%.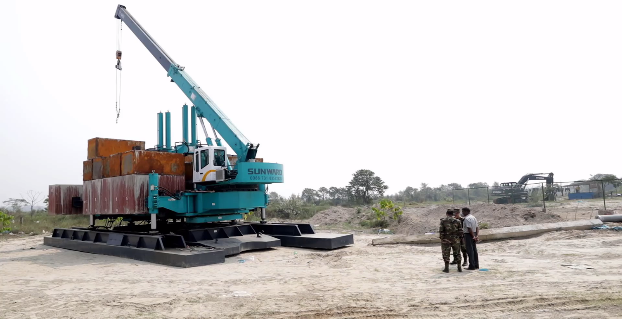 Application
a. Need of minimum 10 plots in one sector within 1km area to start the initial work.
b. Need the completion of soil test and structural design duly approved by Jolshiri Authority.
c. Need minimum two flanks of the plot clear for the maneuver of driving vehicle. Therefore, construction of boundary wall may be discouraged.
d. Number of plots (applicants) will be converted into clusters basing on the proximity.
a. The interested officers can put their name with the details in following link: http:spc-pile.bmtf.com.bd
b. 50% of total payment to be realized during sign of contract with BMTF. 25% to be paid during driving and rest of the amount will be paid on completion of driving (basing on actual work done).
c. Contacts:
(1) For any technical clarification please contact with Colonel Md Mostafizur Rahman Chowdhury (Retired), Chief Engineer, BMTF: 01769003770.
(2) For any queries about application process please contact with Sergeant Md. Shemul hossain: 01784336899.
BMTF Ltd is very pleased to inform you that this project will be executed under the supervision of expert team with utmost sincerity considering the welfare of the officers. For further query your communication with us will be highly appreciated.
Technical clarification
Colonel Md Mostafizur Rahman Chowdhury (Retired), Chief Engineer, BMTF
+88 01769003770
Application related queries
Sergeant Md. Shemul Hossain
+88 01784336899